Most of our National Grange officers are the product of the Grange Youth and Junior programs. We were given opportunities as children and young people to learn leadership skills and then to put those skills into practical application within the Grange.
I want to urge each member, and each Grange, to invest in our Juniors and Youth today. This generation has so much potential to help build our organization. We need to give them the chance to learn and grow into the leaders we need.
Your generous donation will be used by the Junior and Youth Departments to build leaders for our organization as well as your Community Grange.
Join with me in renewing our support for both of these fantastic programs!
The Junior Grange Fund is a dedicated fund, the income and principal may be spent for the dedicated purpose only.
The Junior Grange Fund is part of the National Grange Foundation which is a Section 501(c)(3) non profit foundation. (Click here for more information)
Rockin' the Grange Junior Grange T-shirt Fundraiser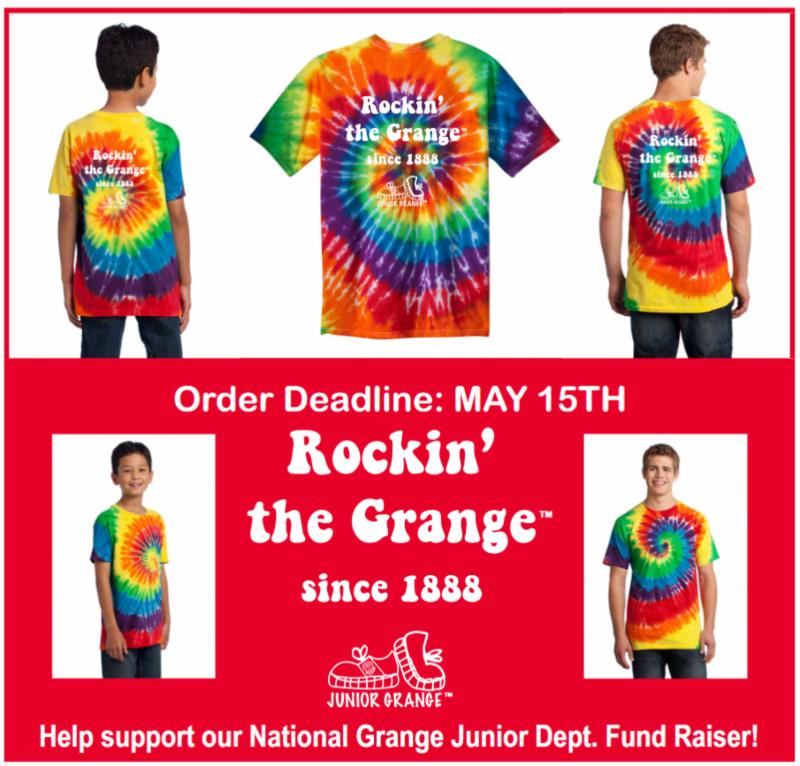 Tie Dye T-Shirts available in both Youth sizes Small through XL and Regular Adult sizes Small through 4XL printed with the Rockin' design shown above on the back of the shirt in white.
Colorfully cool, this groovy tee is a sure fire way to stand out from the crowd. Starting with a prepared-for-dye blank (which has no optical brighteners or bleaches) and cotton thread ensures vibrant color and a standard fit. 5.4-ounce, 100% cotton, the tie dye process infuses each garment with unique character. Please allow for slight color variation of the tie dye design as all shirts will be exact.
Youth Sizes: 
Adults Sizes:
Order now! Call (800) 868-2330 or
Email sales@monroeclassic.com or
Visit order at promoplace.com/grange to order online
Small – XL – $12 each
Small – XL – $20 each
2XL – $22 each
3XL – $23 each
4XL – $24 each
Purchase Your Junior Grange T-Shirt Today
Order Form